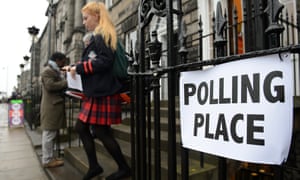 Something that should be welcomed by politicians from all parties in these febrile political times is the rise in young people's interest in politics. With turnout rising and excitement building, it's time to think boldly about enhancing our democracy.
This week we have tabled an early day motion calling for the franchise to be extended to 16- and 17-year-olds – and we're urging MPs from all sides to back us. These young people can join the armed forces, pay tax and get married – yet they're not allowed to cast a vote in a general election. With Scotland already having a voting age of 16, and Wales potentially about to follow suit, it would be a profound shame for UK-wide elections and votes in England to be left lagging behind the pioneers on this issue.
Politics is shifting fast – and the decisions made by those in power in the coming years will profoundly affect the entire lives of young people. It's time for the government to update our democracy by legislating to ensure that the next general election, whenever that may be, is the first in which 16- and 17-year-olds can vote.
Caroline Lucas MP
Co-leader, Green party
Ed Miliband MP
Labour party
Ian Blackford MP
Westminster leader, SNP
Jo Swinson MP
Deputy leader, Liberal Democrats
Liz Saville Roberts MP
Westminster leader, Plaid Cymru