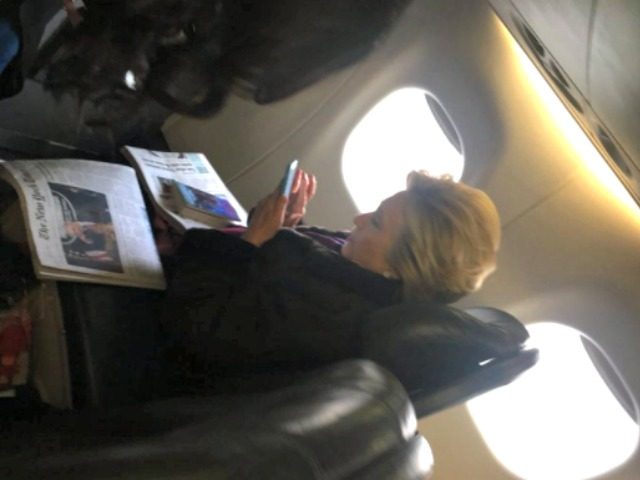 A photo of a public sighting ofHillary Clinton is going viral. The former Secretary of State and losing Democrat candidate for president of the United States was spotted in the cabin of a commercial aircraft unlike the expensive private jets of the campaign trail.
The photo of Hillary flying from Boston's Logan Airport to New York's LaGuardia was taken on Friday, March 3, by Caitlin Quigley, a manager for the New York-based LGBTQ heath care center Callen-Lorde,
Huffington Post reported
.
Hillary's liberal fans jumped on the tweeted photo, with many remarking on the fact that she was seen reading Friday's issue of
USA Today
, something they felt was "ironic" because its
front page
featured a story on Vice President
Mike Pence
's use of a private email address when he was Governor of Indiana. Hillary fans were upset that she had been beset by accusations of breaking national security laws by using a private email server hidden in her New York home when she was Obama's Secretary of State.
Of course, there is little "irony" or even many similarities in the two email stories. Pence's use of private email was not illegal nor was he emailing secret State Department information.
On Friday,
Pence told the media
that there is "no comparison whatsoever between
Hillary Clinton
's practice of having a private server" and "mishandling classified information, destroying emails when they were requested by the Congress and by officials."